Get Involved in Conservation through Citizen Science
Published Dec 1st, 2018 by Lynnwood Andrews and Mary Sellman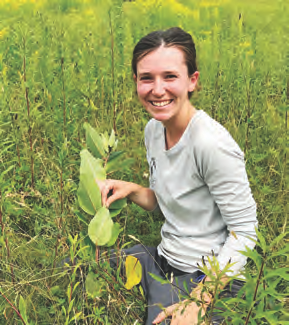 We currently hear a lot about the term "citizen science." It pops up in discussions ranging from the study of local flora and fauna populations to water quality to climate change. So what exactly is citizen science?
According to the Oxford Dictionary, it is "scientific work undertaken by members of the general public, often in collaboration with or under the guidance of professional scientists and scientific institutions."
All it requires is curiosity about an aspect of the natural world and the interest to learn. Below is a representative sample of citizen science projects focused on conservation.
Here is a partial list of the programs from The Vermont Center for Ecostudies focused on those suitable for beginners:
The Vermont Agency for Natural Resources has numerous programs ranging from water quality and aquatic invasive species monitoring, to recycling, to tree monitoring. Examples include these two water quality programs.
Vermont Lay Monitoring Program: Monitor water quality of lakes and ponds. If permission and access from owners could be obtained, they would like to include Norwich water bodies in the program. www.dec. vermont.gov/watershed/lakes-ponds/monitor/lay-monitoring. Contact Mark Mitchell at mark.mitchell@vermont.gov.
Vermont Invasive Patrollers (VIP): Early detection of aquatic invasive plants and animals. This program would also like to include Norwich lakes and ponds if permission and access from owners can be obtained. The early detection program for Hydrilla on the Connecticut River will be seeking volunteers. www.dec.vermont.gov/watershed/lakes-ponds/aquatic-invasives/ monitoring/vips. Contact Kim Jensen at Kimberley.Jensen@vermont.gov.
Vermont Parks and Recreation in conjunction with Vermont Urban and Community Forestry have many tree, invasive plant, and community forest management programs.
Stewardship of the Urban Landscape (SOUL): Tree program offers classes in the spring for individuals interested in improving tree ID, tree pest ID, and tree management skills.
Forest Pest First Detectors: Learn about three forest pests: Emerald Ash Borer, Asian Longhorn Beetle, and Hemlock Wooly Adelgid, and assist in monitoring the local trees and educating the community about them.
Backyard Woods Program: If you own 5-25 acres of land and would like to create your own stewardship action plan, this is an online self-navigated course for homeowners offered in the fall. vtcommunity forestry.org/program/education/backyard-woods-program.
Healthy forest mapping Windsor County, VT: This is a project on iNaturalist aimed at mapping the presence of invasive plants for the benefit of private landowners as well as managers of public lands.
Originally published in Holiday 2018 Norwich Times